Jose Mourinho rejects Arsenal interest in Phil Jones, refuses to do business with Arsene Wenger
Published August 25, 2016
Arsene Wenger's summer transfer window is going from bad, to outright embarrassing.
Arsenal are in somewhat of a defensive crisis, with long term injuries to Garbiel Pualista and Per Mertesacker, and Gunners boss Arsene Wenger has spent the last couple of weeks bidding for almost every defender in world football.
Jonny Evans, Valencia's Shkodran Mustafi, and Atletico Madrid's Jose Gimenez, are some of the names Wenger is interested in, but hesitation in paying the fee required has Arsenal dearly, especially in the pursuit of Mustafi.
Reports from the British press have suggested that Wenger has now tuned his attention to unsettled Man United defender Phil Jones, who has been deemed surplus to requirements at Old Trafford by Reds boss Jose Mourinho.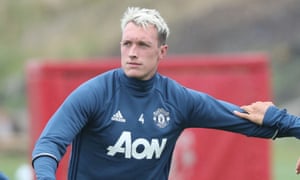 It's understood that there are a host of Premier League clubs interested in the 24-year-old defender, and whilst the player himself would surely be open to a move to the Emirates, Arsene Wenger is set to be red faced once more.
According to the Evening Standard, Jose Mourinho would reject any offer from Arsenal for Phil Jones, because he does not want to do business with his advisory Arsene Wenger.
The two managers have clashed on many occasions in the past, with Mourinho criticising Wenger a number of times, and labeling the Arsenal boss 'a specialist in failure.
Whilst Wenger has tried to play down the rivalry, the United boss seems obsessed with the Arsenal chief and never fails to miss an opportunity to stick the knife in.